Go To Chris Beroes-Haigis.com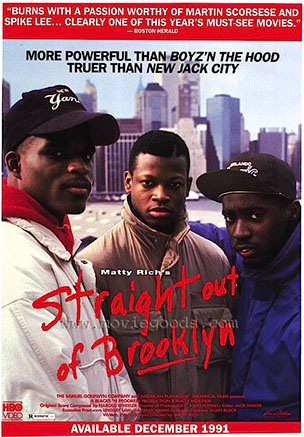 starring
Larry Gilliard, Jr.
George Odum
Ann D. Sanders
Reana E. Drummond
Matty Rich
Mark Malone
Straight Out of Brooklyn is an unflinching portrait of an African-American family struggling to survive in a Brooklyn housing project. The family's oldest son (Lawrence Gilliard Jr.) decides that the easiest way to get his family out of the projects is by robbing a local drug dealer, but that plan turns disastrous when the pusher and his gang track the boy and his family down.
"Straight Out of Brooklyn", Feature Drama. Samuel Goldwyn.
Special Jury Prize, SUNDANCE FILM FESTIVAL.
Best First Feature, INDEPENDENT SPIRIT AWARDS.
Nominated for Best Supporting Male.
Nominated for Best Film Music. Click for Additional Awards.
Blacks 'N Progress, NY/Allen Black.
Director: Matty Rich.