Go To Chris Beroes-Haigis.com

Just Another Girl on the IRT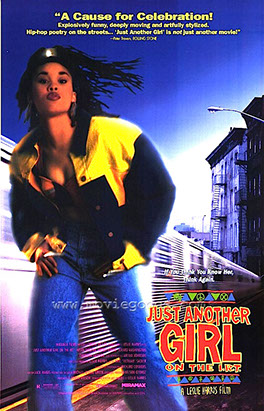 starring
Ariyan Johnson
Kevin Thigpen
Ebony Jerido
Chequita Jackson
Chantel Mitchell (Ariyan Johnson), a hip, articulate, black high-school girl in Brooklyn, is determined not to become "just another girl on the IRT" (the IRT is one of NYC's subway lines). She dreams of medical school, a family, and an escape from the generational poverty and street-corner life her friends seem to have accepted as their lot. But personal and sexual challenges confront Chantel on her way to fulfilling these dreams.
"Just Another Girl on the IRT", Feature Drama. Miramax.
Special Jury Prize, SUNDANCE FILM FESTIVAL.
Open Palm Award, Gotham Awards. Click for Additional Awards.
Truth 24 FPS Prods., NY/Erwin Wilson.
Produced and Directed by Leslie Harris.